Visions of Power Media.
Visions of Power is a digital imaging and graphics service representing the work of Sean Cridland, specializing in automotive photography, writing, and videography; especially about Porsche, Porsche people and Porsche history.
Look for us on
And, listen to Sean's interview with Mark Greene on Cars Yeah! by clicking on the link below.
Welcome to 2017!
This spring, Sean Cridland's photos have graced the covers of the first edition of the book 9 Over 9: Monterey 2016 and the March issue of Porsche Panorama magazine.
The 9 Over 9 book looks at each of the automotive events that took place on the Monterey penninsula during the third week of August, 2016 through the perspectivess of nine well-known automotive photographers including Dennis Gray, Llew Kinst, Wouter Melissen, James Milne, Allan Rosenberg, Peter Singhof, John Straub, Bill Wagenblatt and Sean Cridland.
It's a beautiful tribute some one of the most prestigious car gatherings in the world and the first of what will become a yearly series. Get your copy now by visiting http://www.autograph.net/nine/index.html
In additon Sean published articles on Fred Veitch's Gesetzloser (outlaw) 356, Bata and Brendan Mataja's Blue Baby 356 European race-car and a history of the Donner family, famous for their generations of winning on Pikes Peak.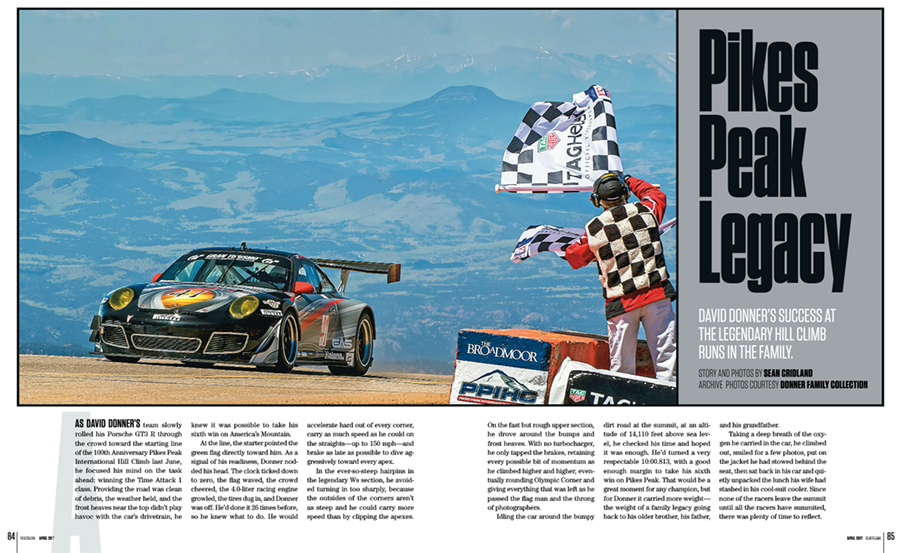 Hope to see you at an event sometime this spring and summer!
Sean Cridland for VisionsofPower.com