Yes, we're a little bit crazy....

It's not that we try to be different. It just worked out that way. VisionsofPower.com represents the writing, photography and video work of Dr. Sean Cridland. Cridland grew up in rural New York State and has lived - among other places - in Aspen and Durango, Colorado and Honolulu, Hawaii before settling in the enchanted Jemez Mountains of Northern New Mexico. Cridland leads Visions of Power with years of experience in photography, videography, writing, editing, marketing, and adventure travel.

Cridland got an early start as an outdoorsman as a life-long skier, an Adirondack 46er at age 16, a whitewater kayaker and long-distance canoe racer at the same early age. He developed a keen interest in motorsports beginning with yearly trips to Watkins Glen and Lime Rock during the iconic racing days of the 60s and 70s. It was during that period that he developed his interest in photography as he took photos of some of legends of Formula 1, Can-Am, and Trans-Am racing.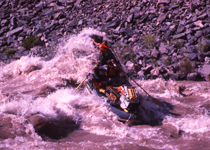 In 1973 he moved to Aspen, Colorado to further pursue his outdoor interests and to pursue careers in ski-racing and big-river raft guiding as well as experience in the restaurant business, including working as a sommelier in some of Aspen's best restaurants.
It was during that time that Cridland worked with his ski-industry sponsors to set up one of the most successful advertising campaigns in ski-industry history and set a World Record of 162mph at the Bonneville Salt Flats while riding on the top of Team Vesco's famous 444 car. The resulting photos and stories were seen in a plethora of magazines including SKI, SKIING, OUTSIDE, POWDER, Sports Illustrated, and many more. The event was also included in Warren Miller's "Beyond the Edge" and on the syndicated TV show "PM Magazine."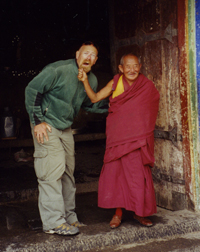 After a successful athletic career that took him to four continents, Cridland furthered his education with Bachelors, Masters, and Ph.D. in philosophy from Fort Lewis College and the University of Hawaii at Manoa. He then taught college courses in philosophy, political science and religious studies at Fort Lewis, including several trips to Nepal, Tibet, India, and Chile. He also attended conferences and delivered papers on a variety of multi-cultural issues during those years.
Now, Cridland focuses on automotive writing and photography. He specializes in all things Porsche, but doesn't shy away from the other marques. You can find him near the top of Pikes Peak, walking endless laps around Daytona, wandering around in the dessert at the Bonneville Salt Flats, or just rolling around in the dirt looking for the perfect shot of a 60-year-old Porsche 356. Looking for something a little bit different....
Sean Cridland is a member of
As an automotive journalist specializing in Porsche, Cridland has been published in
In mid-April 2023, Sean appeared for the second time on J. and Nicole Ryan's Comedy and Cars YouTube show to present one of the Brumos Ultimate Artists Edition books for an auction to benefit their AutoImmune Foundation which funds research toward the treatment and cure of Multiple Sclerosis. The book that Sean donated has a slipcase hand painted by Jay Ward, creative director for Pixar's CARS! movie franchise. Jay Ward joined Sean and the Ryans for lively conversation about his artwork, Pixar movies, and several other topics.
Sean appeared for the first time on the Porsche-themed Late Night Playset with J. and Nicole Ryan in December 2021 to talk about his book Brumos: An American Racing Icon and life in general.
This is what the Bonneville record looked like on PM Magazine, a popular news/info television program of the 1980s.
Cridland also features several times in this French-made film on the 1984 Speed Skiing World Championships held at Les Arcs, France. Look for him in yellow/orange suit and yellow/orange striped helmet.