Brumos: An American Racing Icon
After the success of Hurley: From the Beginning, Sean Cridland began deeper research for Brumos: An American Racing Icon, the complete history of the Brumos Racing Team based in Jacksonville, Florida for which Hurley raced most of his career. The three-volume set (four volumes for the numbered Collector's Edition) tells the full 120-year history of the Brumos name and contains over 4,000 images, documents, and letters from the Brundage, Gregg, Snodgrass, Atkinson, Haywood, and Davis family collections.
Forewords for each of the three volumes are by Roger Penske, Bill Warner, and Patrick Dempsey.
Besides family collections, the books include photographic work by a who's who of the best racing photographers of the 20th and 21st centuries, including Hal Crocker, Pete Biro, Leonard Turner, Jack Webster, Dave Friedman, Bob Harmeyer, Bob Chapman, Martin Spetz, Wes Duenkel, Jeff Zwart, and many, many more.
Copy editors include forty-year editor of Porsche Panorama Betty Jo Turner, Randy Leffingwell (respected author of many automotive books about Porsche, Corvette, Harley-Davidson and many more), and Patti Tantillo (Brumos Racing Team publicist from 2007 to 2014 and current Brumos archivist).
Get your orders in soon! Only 1500 of the 3-volume Brumos Edition and only 359 of numbered Collector's Edition are being printed and made available for purchase.
Volume I (1900–1969)
As many fans know, Brumos is the shortened telegram handle for Brundage Motors, the dealership and distributorship started by Hubert Brundage. But very few people know the history of the Brundage family and their connections to aviation pioneer Glenn Hammond Curtiss and how the relationship set them in motion to become one of the most powerful and influential automotive families in the United States in the 1950s and early 1960s. Thanks to the generous participation of Jan Brundage, Jack Atkinson, and several other participants from that era, Sean Cridland was able to piece together the Brundage story in a way that it's never been told, including their remarkable Duesenberg racing car, how they became one of America's first Volkswagen distributors, their battles with Porsche importer Max Hoffman, and their sports car racing victories with legendary drivers Bob Holbert and Roger Penske. By 1964 Hubert Brundage was looking to grow his empire and had already contacted Ferrari to challenge Luigi Chinetti's position as American importer and, at the time of his death was planning a trip to Japan to meet with Mazda executives. After Brundage's untimely passing in late 1964, Johnny von Neumann enters the picture to take over the distributorship and sell the dealership to young Navy lieutenant Peter Gregg, who embarks on a racing career and promotes his dealership by winning races. The first volume closes with Gregg's racing recruit Hurley Haywood heading off to Viet Nam.
Volume II (1970–1980)
The second volume is entirely dedicated to the 1970s, when Peter Gregg, Hurley Haywood, and their Brumos team run by Jack Atkinson ruled American sports-car racing. With coverage of the early 1970s 914 SCCA campaign, the first IMSA championships and Gregg's forays into Trans-Am with Bud Moore Mustangs and Pete Brock Datsuns, and then the Can-Am with the Lola and Porsche 917, the first chapters show Gregg and his team learning the ropes of professional racing, setting up their legendary 1973 back-to-back wins at Daytona and Sebring. With internal notes, technical reports, Atkinson's day-planners, and interviews with many of the major players of the era, it's a more complete account of Gregg's work ethic, insecurities, and drive to win than ever offered before. The volume closes with Gregg's tragic death and the future of Brumos up in the air.
Volume III (1990–2020)
The third volume of the Brumos trilogy picks up in the early months of 1981 as Deborah Gregg, with the aid and support of Bob Snodgrass, works to carry on the Brumos legacy, but with some notable differences: a change in company colors and logo, no professional racing program, and the rise of Snodgrass in prominence and significance within the company as Deborah pursued her own racing career in GT, open-wheeled, and Trans-Am racing. A chapter on the 1990s looks at the company purchase by Dan Davis, their returning to the original colors, and several IMSA Supercar championships. As the century comes to a close, American sports-car racing is in disarray with several different sanctioning bodies vying for control, but all weakened by a stagnant formula and diluted efforts. Led by Snodgrass, Brumos backed the Grand-Am series by entering a two-car effort of Daytona Prototypes, taking the team back to the top of professional racing. In 2011, Brumos returned to GT racing to take their final championship. And by 2016, the dealership was sold to the Field Group, with Davis retaining ownership of the Brumos name. Volume three closes with the opening of the magnificent Brumos Collection museum.
Volume IV (Collector's Edition Special Supplement)
The special features volume, only available with the numbered Collector's Edition, opens with the signature page, hand-autographed by Brumos founding member Jan Brundage, Jack Atkinson (Brundage hire and eventual crew-chief for Peter Gregg), Roger Penske (Brundage-era Brumos driver), Hurley Haywood, Jennifer Johnson Gregg, Deborah Gregg, Jim Busby (who ran the Brumos team in 1976 during Peter's BMW year), Susan Snodgrass, Dan Davis, technical editor Kerry Morse, designer Richard Baron, and author Sean Cridland. The volume contains photos and lists of all the numbers used by team over the years, Brumos drivers, crew, and cars. Also included are some other photos not included in the first three volumes.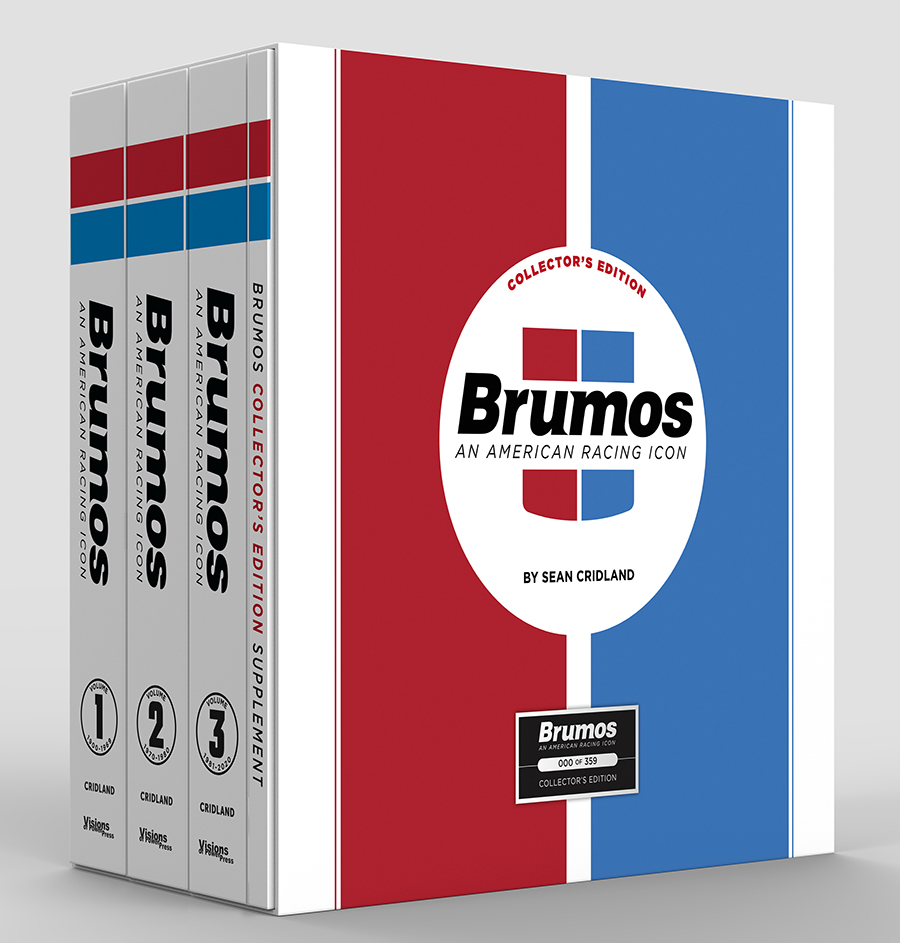 Top banner photo by Peter Harholdt for The Brumos Collection.